Shirt Hut
---
Coach's Corner occupied this space for three years in the early 1990s, but I remember it most fondly as the Shirt Hut, a store that made custom t-shirts. In the 1970's these stores were very popular, and every mall had one. This would be a place, for example, where you could get a really cool KISS or Starsky & Hutch t-shirt made, with the words "foxy" or "hot stuff" printed on the back. You could then proceed to County Seat for the latest in colored cordouroys, stop by Woolworth's for some Bonne Bell Lip Smackers and a big ol' Goody comb, and then hop over to Disco Skate to meet your friends for a hot Saturday night of roller disco! In the 70's (prior to being the Shirt Hut) this space was occupied by Parklane Hosiery.
In December 2003 the space reopened for a short time, housing various second hand items for sale, primarily art pieces.
This photo was taken in January 2004: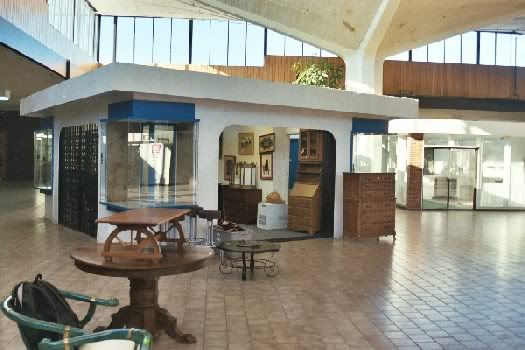 These two photos were taken in the summer of 2003:

Here's a friendly gal selling goods at one of Apache's many weekend mall events in the early 90's. I believe Anderson's Furniture is in the background (photo courtesy Apache Plaza).